Read comments (11)
Rating: 5.00
Hello there!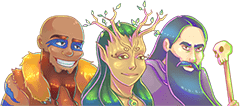 If anyone is missing some competitive action, you are more than welcome to join the
FIRST
ever Competition Round in Elfame.
www.elfame.com
A previous update allows joining Elfame with email+password registration (instead of only Facebook/Google login).
** How Elfame is different from BlackDragon? **
The main difference: you manage a party of 3 heroes and control all the actions in the battle instead of automated battles with a single hero. Everything else is more or less the same!
** How will the Competition Round work there? **
EVERYONE can join & Top-50 players will get rewarded. The round will last only 10 days and will give 100 battles daily which can be used in the most tactical way. The winners ranking will be determined by the number of Quests completed.
** Any extra incentive to join? **
Yes, anyone who comes from BlackDragon will have an opportunity to earn Credits.
How?
Just play the round and provide a detailed feedback (what you liked/disliked, what would you change, etc) via personal message to "dreamer" there.
The number of credits rewarded will depend on how detailed/helpful your feedback is and it has to be provided within the week after the round ends.
If anyone has any questions, feel free to post here!
Regards,
dreamer